Congratulations to Dr. Zhiru Zhang for the Rising Professional Achievement Award from the UCLA School of Engineering and Applied Sciences.

Zhiru received his PhD from UCLA in 2007 under the supervision of Prof. Jason Cong.  Currently, he is an Assistant Professor in the School of Electrical and Computer Engineering at Cornell University.  His research investigates new algorithms, methodologies, and tools to extend the frontiers of design automation for high-performance and energy-efficient computer systems.  His research has been recognized with the UCLA Rising Professional Achievement Award (2018), a DARPA Young Faculty Award (2015), the IEEE CEDA Ernest S. Kuh Early Career Award (2015), an NSF CAREER Award (2015). Prior to joining Cornell, Zhiru co-founded AutoESL Design Technologies, Inc. with Prof. Jason Cong, Dr. Yiping Fan, and Dr. Jing Chang. AutoESL was acquired by Xilinx in 2011. Its high-level synthesis tool is now known as Vivado HLS, widely used in the industry.

The Rising Professional Achievement Award honors the early career achievements of alumni who are under the age of 40,  with impactful accomplishments in academia, industry or entrepreneurship; contributions to the engineering profession; a demonstrated commitment to mentorship; and notable service to the community and the profession.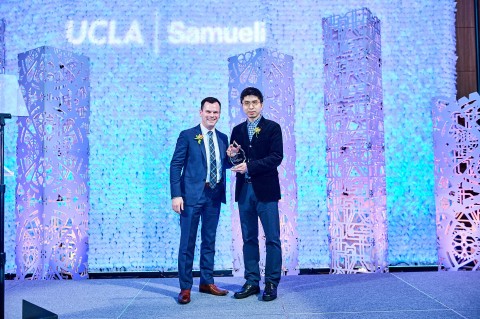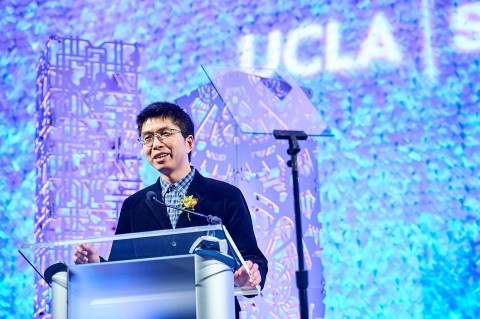 UCLA and Cornell Research Team Win Award from Intel and the National Science Foundation for Heterogeneous Computing Research Effort.Please read the full press at the following link:

Prof. Cong delivered a keynote speech at the 2017 China National Computer Congress (CNCC) on October 27, 2017 held in Fuzhou, China. The title of Prof. Cong's speech is "Computing Near the End of Moore's Law".Prof. Cong is awarded "Distinguished Contribution Award" by the China Computer Federation (CCF) on CNCC.Slides available here:http://vast.cs.ucla.edu/~cong/slides/cncc2017_final_JasonCong.pdf

Related News:

http://www.ccf.org.cn/c/2017-09-27/614976.shtml

http://www.ccf.org.cn/c/2017-10-30/617832.shtml

Prof. Cong's induction to the National Academy of Engineering Prof. Jason Cong was inducted to the National Academy of Engineering on Oct. 8, 2017 in Washington DC for pioneering contributions to application-specific programmable logic via innovations in field-programmable gate array synthesis.

Prof. Cong giving keynote at IISWC'2017

Prof. Cong delivered a keynote speech at the 2017 IEEE International Symposium on Workload Characterization (IISWC'17) on October 2, 2017 held in Seattle, WA. The title of Prof. Cong's speech is "Characterization and Acceleration for Genomic Sequencing and Analysis". The talk covers background on genomic processing pipeline, workload characterization and optimization and acceleration developed in the group.

Slides available here:

http://vast.cs.ucla.edu/~cong/slides/IISWC_keynote_JasonCong.pdf

Best Paper Award at MEMSYS 2017: Authors Cong, Fang, Gill, Javadi, Reinman

Computer Science Department authors Jason Cong, Zhenman Fang, Michael Gill, Farnoosh Javadi, and Glenn Reinman have received a Best Paper Award at MEMSYS 2017 (2-5 October, Washington DC) for their recent paper AIM: Accelerating Computational Genomics through Scalable and Noninvasive Accelerator-Interposed Memory (https://memsys.io/). An abstract of this paper follows:

Computational genomics plays an important role in health care, but is computationally challenging as most genomic applications use large data sets and are both computation-intensive and memory-intensive. Recent approaches with on-chip hardware accelerators can boost computing capability and energy efficiency, but are limited by the memory requirements of accelerators when processing workloads like computational genomics. In this paper we propose the accelerator-interposed memory (AIM) as a means of scalable and noninvasive near-memory acceleration.  To avoid the high memory access latency and bandwidth limitation of CPU-side acceleration, we design accelerators as a separate package, called AIM module, and physically place an AIM module between each DRAM DIMM module and conventional memory bus network. Experimental results for genomic applications confirm the benefits of AIM.  Due to the much lower memory access latency and scalable memory bandwidth, our non-invasive AIM achieves much better performance scalability than the CPU-side acceleration when the memory system scales up.

Customizable Accelerated Computing Will Be Used in Brain Research

This collaborative work involves a team of researchers from several areas of UCLA.  Professor Jason Cong and Professor Tad Blair from UCLA's Brain Research Institute are refining the wireless miniscope to give it built-in, energy-efficient computing capability for real-time feedback and analysis.

CDSC Will Develop Customizable Computing Technology for Augmented Reality Funded by Intel and NSF

The full press release is available at: 
http://engineering.ucla.edu/augmented-reality-making-it-secure-fast-efficient-and-resilient/

Peng Wei for 2016-2017 Symantec Outstanding Graduate Student Research Award

---

Congratulations to Peng Wei (advisor: Prof. Jason Cong) for receiving the 2016-2017 Symantec Outstanding Graduate Student Research Award.

 Bingjun Xiao for 2016 EDAA Outstanding PhD Dissertation Award

Congratulations to Bingjun Xiao (PhD'2015, advisor, Jason Cong), whose dissertation "Communication Optimization for Customizable Domain-Specific Computing", has been awarded the 2016 EDAA Outstanding PhD Dissertation Award.  The award was presented at the conference DATE 2017 – Design, Automation & Test in Europe, on Mar 28 in Lausanne, Switzerland.

The full press release of EDAA is available at http://www.edaa.com/press_releases/EDAA_Award_2016_Results.pdf

EDAA is a non-profit association. Its purpose is to operate for educational, scientific and technical purposes for the benefit of the international electronics design and design automation community. The Association, in the field of design and design automation of electronic circuits and systems, promotes a series of high quality technical international conferences and workshops across Europe and cooperates actively to maintain harmonious relationships with other national and international technical societies and groups promoting the purpose of the Association. EDAA is the main sponsor of DATE, the premier Design, Automation and Test Conference and Exhibition in Europe.

ACM/SIGDA TCFPGA initiated the FPGA and Reconfigurable Computing Hall of Fame program at the symposium

In celebrating the 25th anniversary of the FPGA Symposium, which took place  February 22nd through 24th in Monterey, California, ACM/SIGDA TCFPGA initiated the FPGA and Reconfigurable Computing Hall of Fame program at the symposium.The paper entitled "FlowMap: An Optimal Technology Mapping Algorithm for Delay Optimization in Lookup-Table Based FPGA Designs" by Prof. Jason Cong and his former PhD student Dr. Eugene Ding published in IEEE Transactions on Computer-Aided Design of Integrated Circuits and Systems, 1994, was inducted to the inaugural class of the Hall of Fame (http://hof.tcfpga.org).

The endorsement letter is available at http://hof.tcfpga.org/wp-content/uploads/2017/02/flowmap1994_class2017.pdf.

About ACM FPGA: The ACM/SIGDA International Symposium on Field-Programmable Gate Arrays, held annually in Monterey, is the premiere forum for the presentation of advances in all areas of FPGA technology. http://www.isfpga.org/.

 UCLA Pioneers elected to National Academy of Engineering

Three faculty members of the UCLA Henry Samueli School of Engineering and Applied Science – Jason Cong and George Varghese of Computer Science, and Behzad Razavi of Electrical Engineering (pictured left to right above) – have been elected to the National Academy of Engineering, among the highest honors that can be accorded to an American engineer. The academy announced the 2017 class of 84 members and 22 foreign members on February 8.

With the election of Cong, Varghese and Razavi, UCLA Engineering has 35 affiliated faculty members who are members of the National Academy of Engineering.

Jingsheng Jason Cong, Distinguished Chancellor's Professor of Computer Science, was recognized by the academy "for pioneering contributions to application-specific programmable logic via innovations in field programmable gate array (FPGA) synthesis."

George Varghese, Chancellor's Professor of Computer Science, was recognized by the academy "for network algorithmics that make the Internet faster, more secure, and more reliable."

Behzad Razavi, Chancellor's Professor of Electrical Engineering, was recognized by the academy "for contributions to low-power broadband communication circuits."

For more details, please visit http://engineering.ucla.edu/ucla-pioneers-in-customized-computing-communication-circuits-networking-elected-to-national-academy-of-engineering/

Dr. Zhenman Fang is selected as one of the four Institute for Digital Research and Education (IDRE) inaugural fellows

Dr. Zhenman Fang, advised by Professor Cong, is selected as one of the four Institute for Digital Research and Education (IDRE) inaugural fellows. Dr. Fang is researching on how new computer architectures can impact DNA sequencing technology.

The IDRE fellowship program was initiated as a mechanism to build a cohort of UCLA postdoctoral scholars and early career researchers and engage them in the IDRE community. Fellowship applicants were nominated by faculty sponsors and the recipients were selected by faculty from IDRE's Executive Committee.

More information is available at https://idre.ucla.edu/featured/idre-selects-inaugural-fellows

Dr. Zhenman Fang presented the Blaze demo at the C-FAR annual review

Dr. Zhenman Fang presented the Blaze demo on Dec 6, 2016 at the C-FAR (Center for Future Architectures Research) annual review hosted at University of Michigan. The Blaze demo won the 3rd place out of 49 demos from 15 top universities. Congratulations to all Blaze team members:  Muhuan Huang, Di Wu, Cody Yu, Zhenman Fang, Matteo Interlandi, Tyson Condie and Jason Cong.  More information about the C-FAR is avaialble at  https://www.futurearchs.org/.

Prof. Cong giving keynote at IEEE NAS'2016

Prof. Jason Cong delivered the opening keynote speech at the The 11th IEEE International Conference on Networking, Architecture, and Storage (NAS 2016) on August 8, 2016 held at Long Beach, California.  NAS provides a high-quality international forum to bring together researchers and practitioners from academia and industry to discuss cutting-edge research on networking, high-performance computer architecture, and parallel and distributed data storage technologies.   The title of Prof. Cong's speech is "Customizable Computing at Datacenter Scale".  More information about the conference is available at http://www.nas-conference.org/NAS-2016/index.html.

The 2016-2017 Dissertation Year Fellowship.


Di Wu, advised by Professor Cong, is selected as 2016-2017 Dissertation Year Fellows by the UCLA Graduate Division.

The fellowship program's intention is to support the final year of graduate school at the disertation writing stage and to facilitate the start of the teaching or research appointments soon after the end of the dissertation fellowship year.

From IEEE Computer Society Announcement on Feb. 22, 2016.


Dr. Jason Cong, a Chancellor's Professor at the Computer Science Department, with joint appointment from Electrical Engineering Department of University of California, Los Angeles, has been selected to receive the 2016 Technical Achievement Award "For setting the algorithmic foundations for high-level synthesis of field programmable gate arrays".

The IEEE Computer Society Technical Achievement Award is given for outstanding and innovative contributions to the fields of computer and information science and engineering or computer technology, usually within the past 10, and not more than 15, years. Contributions must have significantly promoted technical progress in the field.  The complete IEEE Computer Society announcement is available at https://www.computer.org/web/pressroom/cong-tech-achievement.

Dr. Cong, elected to an IEEE Fellow in 2000 and ACM Fellow in 2008, is the recipient of the 2010 IEEE Circuits and System (CAS) Society Technical Achievement Award "For seminal contributions to electronic design automation, especially in FPGA synthesis, VLSI interconnect optimization, and physical design automation." Dr. Cong is the only award recipient to receive the Technical Achievement Award from both the IEEE Computer Society and the IEEE CAS.

Prof. Cong gave keynote speech at ASP-DAC 2016


Prof. Jason Cong delivered a keynote speech on "Compilation for Customized Computing — From Single-Chips to Data Centers" at the 21st Asia and South Pacific Design Automation Conference(ASP-DAC 2016) in Macao, China on Jan. 28, 2016.   ASPDAC aims at providing the Asian and South Pacific CAD/DA and Design community, one of the most active regions of design and fabrication of silicon chips in the world,  with opportunities of presenting recent advances and with forums for future directions in technologies related to Electronic Design Automation (EDA).  For more information about the conference, please visit http://www.amsv.umac.mo/aspdac2016/

Prof. Cong gave keynote speech at H2RC'15 held in conjunction with SC'15

Prof Cong gave keynote speech "Datacenter-Scale Customizable Computing" at first International Workshop on Heterogeneous High-performance Reconfigurable Computing( H2RC'15) Held in conjunction with Super Computing 2015.

  About H2RC'15: http://h2rc.cse.sc.edu/index.html

Prof. Cong gave keynote speech at HALO'15


Prof. Cong gave keynote speech entitled "Machine Learning on FPGAs" on November 5, 2015 at HALO'2015 (the First Workshop on Hardware and Algorithms for Learning On-a-Chip) co-located at the International Conference on Computer-Aided Design (ICCAD'15).

About HALO:

Machine learning algorithms, such as those for image based search, face recognition, multi-category classification, and scene analysis, are being developed that will fundamentally alter the way individuals and organizations live, work, and interact with each other. However their computational complexity still challenges the state-of-the-art computing platforms, especially when the application of interest is tightly constrained by the requirements of low power, high throughput, small latency, etc. In recent years, there have been enormous advances in implementing machine learning algorithms with application-specific hardware (e.g., FPGA, ASIC, etc.). There is a timely need to map the latest learning algorithms to physical hardware, in order to achieve orders of magnitude improvement in performance, energy efficiency and compactness. Recent progress in computational neurosciences and nanoelectronic technology, such as resistive memory devices, will further help shed light on future hardware-software platforms for learning on-a-chip. The overarching goal of this workshop is to explore the potential of on-chip machine learning, to reveal emerging algorithms and design needs, and to promote novel applications for learning. It aims to establish a forum to discuss the current practices, as well as future research needs.

Alumni Prof. Deming Chen wins Best Paper Award at ICCAD'15


Alumni Prof. Deming Chen wins Best Paper Award at ICCAD'15, Austin, TX.

The paper is W. Zuo, W. Kemmerer, J. B. Lim, L.-N. Pouchet, A. Ayupov, T. Kim, K. Han, and D. Chen, "A polyhedral-based SystemC modeling and generation framework for effective low-power design space exploration," Proceedings of IEEE/ACM International Conference on Computer-Aided Design, November 2015.

ICCAD is the premier forum to explore emerging technology challenges, present cutting-edge R&D solutions, record theoretical and empirical advances, and identify future roadmaps for design automation. Continuing a long tradition, ICCAD continues to be the home for the ACM/SIGDA CADathlon and Student Research Competition, several CAD contests, including the IEEE CEDA CAD Contest, and a remarkable set of workshops on design automation for analog and mixed-signal circuits, EDA research on learning on a chip, design for dark silicon era, variability modeling and characterization, and formal verification.

Alumni Prof. Zhiru Zhang received the first IEEE CEDA Ernest S. Kuh Early Career Award


VAST Lab alumni Prof. Zhiru Zhang at Cornell University received the first IEEE CEDA Ernest S. Kuh Early Career Award on Nov. 2 at the opening session of ICCAD'2015.

The IEEE CEDA Ernest S. Kuh Early Career Award honors an individual who has made innovative and substantial technical contributions to the area of Electronic Design Automation in the early stages of his or her career.http://ieee-ceda.org/awards/ernest-s-kuh-early-career

Google Faculty Research Award for 2015


Prof Jason Cong is one of the recipients of the Google Faculty Research Award for 2015. The one-year award supports the work of world-class, permanent faculty members at top universities around the world. with the aim of advancing cutting-edge research in computer science, engineering and related fields.http://newsroom.ucla.edu/dept/faculty/two-computer-science-professors-win-google-faculty-research-award

Book "Customizable Computing" Published


At the conclusion of the "Customizable Domain-Specific Computing" project funded by the NSF Expeditions in Computing program in 2009,  Prof. Cong, Prof. Reinman and their graduate students in the Center for Domain-Specific Computing (CDSC) published a book in the series of Synthesis Lectures on Computer Architecture by Morgan & Claypool Publishers.  This book presents an overview and introduction of the recent developments on energy-efficient customizable architectures, including customizable cores and accelerators, on-chip memory customization, and interconnect optimization. In addition to a discussion of the general techniques and classification of different approaches used in each area, it also highlights and illustrates some of the most successful design examples in each category and discuss their impact on performance and energy efficiency. A large body of the research covered in the book were obtained during the course of the Expeditions in Computing project.

Prof Cong's Keynote Speech at 2015 SOCC


Prof. Cong gave a keynote speech entitled as "High-Level Synthesis and Beyond — from Datacenters to IoTs" at SOCC'15, the 28th IEEE International System-on-Chip Conference, Beijing, China on September 9, 2015.

About SOCC'15: In its 27 years of history, the IEEE International System-on-Chip Conference (SOCC) has been the premier forum for sharing advances in system-on-chip (SoC) technologies, designs, tools, test, verification and applications. Held at changing locations in the USA, Europe and Asia, SOCC is attracting researchers and engineers from all over the world to exchange knowledge, share experiences and establish collaborations with colleagues.

SOCC'15 website: www.ieee-socc.org/

Prof Cong Received ASPDAC Ten-Year Retrospestive Most Influential Paper Award


Research paper by Jason Cong, a Chancellor's Professor in UCLA's Computer Science Department, and his former doctoral student, Yan Zhang, was selected as the 10-Year Retrospective Most Influential Paper in the 2015 Asia South-Pacific Design Automation Conference (ASPDAC). The award for the paper, "Thermal-Driven Multilevel Routing for 3-DICs," was presented at the opening ceremony of ASPDAC'15 on Jan. 20, in Chiba/Tokyo, Japan.Cong, on faculty at the UCLA Henry Samueli School of Engineering and Applied Science, is the director of Center for Domain-Specific Computing, co-director of UCLA/Peking University Joint Research Institute in Science and Engineering and co-director of the VLSI CAD Laboratory. His research interests include synthesis of VLSI circuits and systems, programmable systems, novel computer architectures, nano-systems and highly scalable algorithms. He has over 350 publications in these areas and has won seven best paper awards and the 2011 ACM/IEEE A. Richard Newton Technical Impact Award in Electric Design Automation.

He was elected to an IEEE Fellow in 2000 and ACM Fellow in 2008.  He is the recipient of the 2010 IEEE Circuits and System Society Technical Achievement Award "for seminal contributions to electronic design automation, especially in FPGA synthesis, VLSI interconnect optimization, and physical design automation."

http://newsroom.ucla.edu/dept/faculty/jason-cong-wins-10-year-retrospect…

Prof Cong Received ICCAD Ten-Year Retrospestive Most Influential Paper Award

Congratulations to Jason Cong and coauthors Jie Wei and Yan Zhang.  Their 2004 paper, A Thermal-Driven Floorplanning Algorithm for 3D ICs, has received this year's ICCAD Ten-Year Retrospective Most Influential Paper Award. ICCAD (International Conference on Computer-Aided Design) judged this paper to be the "most influential on research and industrial practice in computer-aided design of integrated circuits over the ten years since its original appearance at ICCAD."

Prof Cong Received Distinguished Alumni Achievement Award from UIUC


Prof. Jason Cong is selected as a recipient of the Distinguished Alumni Achievement Award from the Department of Computer Science at the University of Illinois at Urbana-Champaign.  The award is given on Oct. 24, 2014 during the CS @ ILLINOIS 50th Anniversary Celebration.

The information of the event and other awardees is available at

http://cs.illinois.edu/news/cs-illinois-50th-anniversary-celebration

Prof Cong's Keynote Speech at 22nd IPIP/IEEE VLSI-SoC


Prof. Jason Cong is giving the keynote speech entitled "Design Automation Beyond High-Level Synthesis" at the 22nd IPIP/IEEE VLSI-SoC 2014 on Oct. 6, 2014.

VLSI-SoC 2014 is the 22nd in a series of international conferences sponsored by IFIP TC 10 Working Group 10.5, IEEE CEDA and IEEE CASS, which explores the state-of-the-art in the areas that surround Very Large Scale Integration (VLSI) and System-on-Chip (SoC).

Previous conferences have taken place in Edinburgh, Trondheim, Tokyo, Vancouver, Munich, Grenoble, Gramado, Lisbon, Montpellier, Darmstadt, Perth, Nice, Atlanta, Rhodes, Florianópolis, Madrid, Hong Kong, Santa Cruz and Istanbul.

The purpose of VLSI-SoC is to provide a forum to exchange ideas and showcase research as well industrial results in EDA, design methodology, test, design, verification, devices, process, systems issues and application domains of VLSI and SoC.

The conference website is http://www.vlsi-soc.com

Aug 2014:  Keynote Speech in ISLPED 2014 by Prof. Cong


In 14th IEEE International Symposium on Low Power Electronics and Design (ISLPED) 2014, La Jolla, CA, Professor Cong gave a keynote speech entitled "Accelerator-Rich Architectures — From Single-chip to Datacenters".

The International Symposium on Low Power Electronics and Design (ISLPED) is the premier forum for presentation of recent advances in all aspects of low power design and technologies, ranging from process and circuit technologies, to simulation and synthesis tools, to system level design and optimization.

July 2014: Alumni Prof. David Pan Appointed as "Engineering Foundation Professor" at UT Austin


Congratulations to David Pan for  the appointment "Engineering Foundation Professor" at UT Austin. Last year David got Earl N. and Margaret Brasfield Endowed Faculty Fellowship in Engineering.

David Z. Pan received his Ph.D. degree (with honor)  from the VAST Lab (formerly the VLSI CAD Lab) in Computer Science from University of California at Los Angeles (UCLA) in 2000. In 2003, He joined Department of Electrical and Computer Engineering, The University of Texas at Austin.

July 2014:  Awarded of $3 million by NSF and Intel to address health care needs


In partnership with Intel Corporation, NSF announced the first InTrans award of $3 million to a team of researchers who are designing customizable, domain-specific computing technologies for use in healthcare. The work could lead to less exposure to dangerous radiation during x-rays by speeding up the computing side of medicine. It also could result in patient-specific cancer treatments.Led by the University of California, Los Angeles, the research team includes experts in computer science and engineering, electrical engineering and medicine from Rice University and Oregon Health and Science University. The team comes mainly from the Center of Domain-Specific Computing (CDSC), which was supported by an NSF Expeditions in Computing Award in 2009.

In the project, the researchers looked beyond parallelization (the process of working on a problem with more than one processor at the same time) and instead focused on domain-specific customization, a disruptive technology with the potential to bring orders-of-magnitude improvements to important applications. Domain-specific computing systems work efficiently on specific problems – in this case, medical imaging and DNA sequencing of tumors – or a set of problems with similar features, reducing the time to solution and bringing down costs.The InTrans program not only advances important fundamental research and integrates it into industry, it also benefits society by improving medical imaging technologies and cancer treatments, helping to extend lives.


F
For details, please see NSF and UCLA press releases:
Taking great ideas from the lab to the fab
UCLA Engineering-led team receives $3 million boost from NSF and Intel for high-performance healthcare computing
First NSF InTrans Grant Awarded to UCLA

February 2014:  Inivted Demo at Xilinx ETS 2014 Academic Exhibition


In the Xilinx Emerging Technology Symposium (ETS) on Feburary 13rd, 2014, the UCLA team led by Professor Jason Cong are invited to demo FPGA acceleration on a 3-D medical imaging pipeline and an end-to-end system level automation flow called CMOST (Customization, Mapping, Optimization, Scheduling and Transformation).

ACM/IEEE A. Richard Newton Technical Impact Award in Electric Design Automation


Professor Jason Cong and his former Ph.D. student Dr. Eugene Ding (now with Xilinx) received this year'sACM/IEEE A. Richard Newton Technical Impact Award in Electronic Design Automationat the opening session of the 48th Design Automation Conference. |

The award was given for "pioneering work on technology mapping for FPGA that has made a significant impact on the FPGA research community and industry," as evidenced by a paper published at least ten years prior to the award. Prof. Cong and Dr. Ding are honored for their paper "FlowMap: An Optimal Technology Mapping Algorithm for Delay Optimization in Lookup-Table Based FPGA Designs" (IEEE Transactions on Computer-Aided Design, vol 13, no. 1, pp. 1-12,January 1994)

  http://today.ucla.edu/portal/ut/jason-cong-receives-acm-ieee-a–richard-newton-technical-impact-award-in-electronic-design-automation.aspx
  Posted June 15, 2011

A team from UCLA and UIUC has won a Best Paper Award for the collaborative Multilevel Granularity Parallelism Synthesis on FPGAs


The paper, authored by A. Papakonstantinou, Y. Liang, J. Stratton, K. Gururaj, D. Chen, W. M. Hwu, and J. Cong, was selected out of 120 submissions to the 2011 IEEE International Symposium on Field-Programmable Custom Computing Machines.This work (code-named FCUDA-II) offers an advanced modeling and search engine in the multi-granularity parallelism design space to map CUDA kernels to FPGAs. It combines resource/period/latency modeling with a theoretically optimal yet efficient search algorithm to identify the best combination of various parallelism/design parameters in a short period of time. It offers up to 7x speedup in terms of performance compared to the original FCUDA work (which received the Best Paper Award at SASP 2009). The collaboration between researchers from UCLA and UIUC has been very successful.Download "Multilevel Granularity Parallelism Synthesis on FPGAs" (PDF)
Posted May 12, 2011

AutoESL was founded directly by faculty and graduate students from the UCLA Henry Samueli School of Engineering and Applied Science. Using the technology licensed from UCLA, AutoESL found a critical niche in developing tools that reduce design time and improve the quality of integrated circuit design, and in less than five years, the company became an acquisition target for Xilinx. "I believe that university spinoffs involving the developers of the original technology are the best way to bridge such gaps." – said by Jason Cong, Chancellor's Professor in computer science at UCLA Engineering and a co-founder of AutoESL, worked with UCLA Engineering graduate students in developing the technology.
Posted March 7, 2011

PhD students Bin Lin and Yi Zou of Prof. Jason Cong in the Computer Science Department won the First Prize of CADathlon @ ICCAD, which took place on Sunday, Nov. 9, 2010 prior to ICCAD'2010


The Second Prize was shared by two teams from Univ. of Michigan and UC Berkeley.About CADathlon @ ICCAD:  In the spirit of the long-running ACM programming contest, the CADathlon challenges students in their CAD knowledge, and their problem solving, programming, and teamwork skills. It serves as an innovative initiative to assist in the development of top students in the EDA field. The contest will provide a platform for SIGDA, academia, and industry to focus attention on the best and brightest of next generation CAD professionals.For more details, please visit http://www.sigda.org/programs/cadathlon/
Posted November 24, 2010

IEEE CAS Awards 2010 (July 2010)

Prof. Jason Cong is the recipient of the 2010 IEEE Circuits and System (CAS) Society Technical Achievement Award. This award honors the individual whose exceptional technical contributions to a field within the scope of the CAS Society have been consistently evident over a period of years. The citation of the award for Prof. Cong reads "For seminal contributions to electronic design automation, especially in FPGA synthesis, VLSI interconnect optimization, and physical design automation". Prof. Cong received the award at the IEEE International SoC Conference on September 27, 2010.For more details, please visit the CAS Newsletter, available online.
Posted February 14, 2011

US News

Posted July 26, 2010

Press Release 09-190 by National Science Foundation

Released October 6, 2009

UCLA Newsroom

Posted August 11, 2009